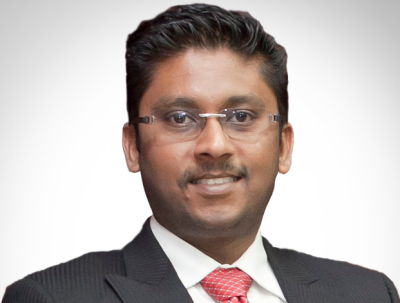 Ready to restart
Abu Dhabi
August 24, 2020
Narish Nathan, CEO of Eversendai Offshore, talks to The Energy Year about how operations have changed due to the Covid-19 crisis and the company's foray into renewables. Eversendai Offshore provides EPC services for fabrication projects in the UAE's energy industry.
How has the Covid-19 crisis affected global activity?
Last year ended well, and 2020 started with a lot of hope. When the pandemic broke out, we were apprehensive about what would happen. For the first time in the group's history, we had to face three-month lockdowns in most markets where we operate. Only the UAE allowed operations to continue at construction and fabrication facilities. Additionally, every market experienced supply chain disruptions. We may have been better off with lockdowns in all markets due to operational challenges.
Many of our employees that travel to India for holidays were stuck there. We tried to acquire work visas for new employees from India but were refused. We expected to onboard 400-500 new people. We then had to hire workers for this period to fill in for our original staff, which is more expensive.
Some project sites had positive cases, which required quarantining for at least two weeks. Our fabrication yard [RAK Maritime City] was affected. We shut down for almost a week to do mass testing, which also cost us a lot. Thankfully, many staff who tested positive are not showing any symptoms and the ones that showed symptoms are recovering.
We also expect newly awarded projects to be delayed across the board. Oil and gas projects that we were bidding on in the UAE such as a fabrication yard, and Saudi Aramco-driven projects in Abu Dhabi are being postponed.
We have passed through the most difficult period of 2020. We have a strong order book that is allowing us to get back to work and resume operations. However, it will take some time to get back to normal.
Do you think ADNOC will overcome the slowdown in activity?
ADNOC's and the UAE's resilience is remarkable. A lot of projects will resume once things settle down. I believe in the leadership of the UAE and what they are doing. The crisis is an immediate shock to the whole economy. However, given that lifting costs are still lower than in other countries, we are resilient. This is why we set up our waterfront fabrication yard in the UAE and not in Malaysia.
Could you give us an overview of Eversendai Offshore's history?
Our group's core business is construction and infrastructure. We also build coal-fired power plants in Malaysia. We fabricate steel structures with turnkey solutions. For example, we were subcontractors for the Burj Khalifa building.
Eversendai Offshore started with zero track record. It was a painful experience to start something from scratch during the 2014 oil price crash. We decided to build the waterfront fabrication yard in the same year to venture into oil and gas. We invested heavily in the UAE. Given that our group has two other fabrication units in the market, it was natural for us to continue expanding. We built up from one project to the next, working with ADNOC and Saudi Aramco, among others.
What type of work have you done for renewables projects?
In 2017, we identified offshore wind as a target market. It took us 2.5-3 years to break into the sector. Our first project was the Hollandse Kust Zuid Alpha and Beta, Offshore Wind Farm in Netherlands, in late 2019, which involved building two jackets for the substation. These were delivered in early July. In January 2020, we secured a contract for the Seagreen offshore wind project in the UK. This is our first time manufacturing a topside for an offshore substation. The topside weight is close to 5,000 tonnes.
These have been our breakthroughs in wind energy. Ironically, the yard that we began for oil and gas is now working only on wind projects. Dynamics have changed. We intend to further develop our renewables segment at Eversendai Offshore.