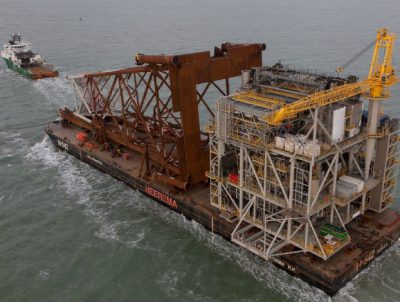 Marathon hits first gas off Equatorial Guinea
Equatorial Guinea
MALABO, July 14, 2016 – Marathon Oil Corporation has achieved first gas production through its Alba B3 platform, the company announced on Thursday. The Alba project will see the company tap the some 130 million boe in proven yet undeveloped reserves offshore Equatorial Guinea.
Working through local subsidiary Marathon E.G., which operates the Alba field on a 65% stake, reaching first gas will enable Marathon to mitigate "base decline," the company's vice-president for conventionals Mitch Little said in a press release. "The Alba B3 compression project will allow us to maintain plateau production for the next two years," he said, adding that the project would extend the field's life by "up to eight years."
Construction of the Alba B3 platform was overseen and executed by Heerema Fabrication Group, with work on the platform flare and bridge structures carried out by a local construction firm in country. The latter work was performed as part of Marathon's local capacity building programme in Equatorial Guinea.
Marathon Oil Corporation's partner on the Alba Project is Noble Energy with 35%.
For more oil and gas news on Equatorial Guinea, click here.